FIAMMETTA Wine Resort….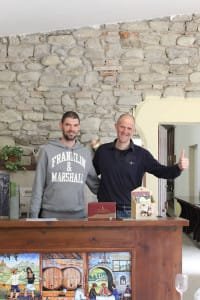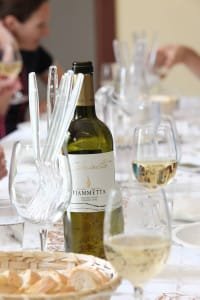 Located between the Adriatic Sea and the beautiful Volconca hills in Italy's Emilia-Romagna province.
The founder of the farm Benito Piva was born in Mantova. His passion and love went into working on the land eventually giving life to the contemporary farm and holiday home. The wine resort is named after his daughter Fiammetta. Benito's grandson's Francesco, Jacopo and Matteo are following the family tradition and now running the farm with great love and passion that their father Carlo Panzeri (Fiammetta's husband) handed down to them. Their Father Carlo Panzeri is an agronomist whose particular expertise is tilling vineyards and grapes. The eight different types of biological wines produced at the vineyard is the families reward. The farms 41 hectares of land is embraced with the vineyard, olive groves and alfalfa.
Benedictus – A wine devoted to Benito Piva, founder of the Agriturismo Fiammetta. Sangiovese and Montepulciano Grapes ensure a bright and rather full ruby-red color with violet reflections. The wine has delicate hints of wild fruits, plum jam and violets. Ideal with red meats, delicatessen meats and mature cheese.  13% Alcohol. Serving temperature 16-18'C.
seiUnico –  Dry with a soft distinctive and pleasant taste of fruits! Since it is obtained from pure Sangiovese grapes it has a ruby-red colour with purple nuances. When young the wine has rather intense hints of "marasca" cherries, blackcurrant and wild strawberries with rose and jasmine. The taste is pleasant and enjoyable with well-balanced tannins. Ideal for delicatessen meats, medium-mature cheese and red meats. Perfect with sardines and grilled fish. 12% Alcohol. Serving Temperature 16'C
Frajateo – The wine is created with a combination of the grandparents experience and the passion of the grandchildren. Made exclusively from Cabernet Sauvignon grapes with ruby-red color and violet reflections. The bouquet has highlights of fruits with hints of herbs, spices and tobacco. Smoothness and tannins are perfectly balanced. A delightful choice with red meats and well-matured cheeses. 13.5% Alcohol. Serving Temperature 16'C
Nero Eron – Nero Eron is produced from a selection of Sangiovese, Cabernet Sauvignon and Montepulciano grapes. The harvest is manual leaving the must with the skins for approximately ten days after the pressing. 70% of the mixture sits for 8 months in steel barrels and 30% in barrique after the drawing to complete the aging process in the bottle. Its color is deep ruby-red holding spicy hints of pepper, liquorice and rhubarb followed by explosion of soaked cherry and blackberry fruits. On the palate it is intense and quite tannic though has a tasty finish. A nice complement with red meats and cheeses. 13% Alcohol. Serving Temperature 16'C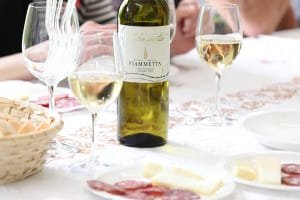 Delle Fiamma – A light fruity aroma that doesn't overshadow its almond-flavor. Made from Trebbiano and Pignoletto grapes this wine has a fine straw yellow color. The delicate bouquet has hints of acacia, hawthorn and banana. The taste is pleasantly fresh, smooth and well-balanced. Ideal with fresh cheese, white meats and fish. 11.5% Alcohol. Serving Temperature 10-12'C
Gelindo – Devoted to Gelindo Panzeri a famous tavern owner in the 50's from Milan. Made Exclusively from Chardonnay grapes with clear golden-yellow color. Exotic fruits, juniper, papaya and mango. Taste is well-balance with a fresh and smooth finish. Ideal with fish, cheese or fresh delicatessen meats.  12% Alcohol. Serving Temperature 10'C
Clarinetto – Pignoletto and Trebbiano makes the pleasantly sparkling "Clarinetto". Suitable as an aperitif with fish or white meats. The trebbiano and Pignoletto grapes gives the wine a yellow color and delicate sparkle. Hints of banana, hawthorn and acacia. Excellent aperitif, delightful with fish and desserts. 11% Alcohol. Serving temperature 8-11'C.
Dulcis in Fundo – Albana is one of the typical wines produced in Romagna. The wine name is well-known all over the world. Romagna and Albana have become synonymous. The vineyard is located in Croce di Montecolmbo on the hills over looking the Adriatic sea with a south-west exposure in clay soil. The result is a very consistent amber yellow wine with a fruity sweet taste. It is best served with sweets or pastries.
Organic Olive Oil is another specialty that is created directly from the farms olive groves. The olive harvest is mostly composed by a variety called "Leccino". A small percentage of two other varieties include "Frantoio and Moraiolo. The olives are carefully handpicked and then transported to the oil-mill where they are cold pressed. The cold pressed olive oil is judged to be the best quality and have a superior taste.
The result of the Fiammetta oil is golden green extra virgin oil with a nice fruity smell and a light sweet and spicy well-balanced taste. This extra virgin olive oil is perfect with fresh vegetables, salads and fish. The oil is sold in 0.5 liter glass bottles and 5 liter special tin containers.
Other unique products offered at Fiammetta – Handmade organic soaps, creams, shampoo and lip balm that all have soft delightful fragrances. Homemade jams, honey, juices to grappa.
The farmhouse at one time was used as a guest quarter for a monastery, then became a farmstead with stables along with a working oil-mill. Today the house has been completely restored into two comfortable apartments that can host 6 to 8 people. The lovely gardens and private pool area over looking the vineyard make it the perfect place to recharge on vacation or celebrate birthdays, anniversaries and other events.
The vineyard welcomes daily tours by booking in advance. (  www.agriturismofiammetta.it ) Tel +39054128983 or Mobile # +393391210019
Fam. Panzeri – Via Provinciale, 909
47854 Croce di Montecolombo (RN) Italy