I am delighted to have returned to Seville for yet another visit, this time bringing my parents for their first time 🙂
It feels so refreshing & relaxing walking through the narrow passages & streets throughout the old town, taking in the many aromas & friendly chit chat from the Tapa bars & cafes. Always amazed by the impressive Architecture, History & Culture.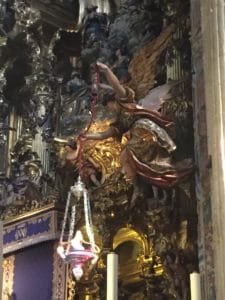 December is especially nice with all the Christmas light strung up, smells of roasting chestnuts and smaller line ups to all the sights.
Seville just has a unique and special flavour!!
Our morning started off with a wonderful breakfast includingd eggs, bacon, freshly squeezed orange juice, bread and coffee in an outdoor plaza. I savoured every moment while I felt the warm Andalusian sun on my face. (Can't get enough of the fresh orange juice here, it is the best!!)
The friendly restaurant is called CARMELA BAR DE TAPAS located in a nice court yard off Santa Maria la Blanca. www.barcarmela.es
After filling our stomachs we headed to visit the Devine Saviour Collegiate Church followed by the oldest and largest Gothic style Cathedral in the World, "Cathedral Seville" enjoying the sights along the way and between with a sit down at a yummy tapas bar, here we enjoyed one of Spain's traditional dishes Paella 🥘 and several others, ending off the day with a Flamenco 💃 show and guided night tour explaining some of Seville's grand history.