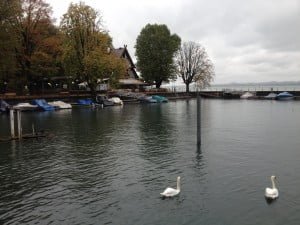 Bregenz is the capital city of Vorarlberg in Austria. This historic city once was known as Brigantium in the Roman times, 15 years before Christ was born. Though it is believed people lived in the area 1500 years before Christ. It is located at the east end of Lake Constance. Bordering to Switzerland and Germany with Liechtenstein as a close neighbour. Today you will find the modern festival house with the famous theatrical stage on the Lake (Bregenzer Festspiele). You can watch opera performances from the middle of July to middle of August. A shooting location for the Bond movie "Quantum of Solace".
Festival House, Bregenz
The Bregenz Boardwalk runs along Lake Constance through parks and nature trails. This makes it a popular place for walking, running and cycling while enjoying the beautiful views.
There are two train stations in Bregenz. The main station (Hauptbahnhof) and the harbour station (Bregenz Hafen). The main station connects travelers to the rest of Europe.
The entrance to the old town of Bregenz below.
Lake Constanz below is a large play ground for all water sports, boating, & sailing. Stretching 63 km long, 14 km wide with a total of 536 square Km of fresh water. The lake's average is 90 meters deep with the deepest point being 254 meters deep. The shore line boarders Germany, Austria and Switzerland. There are ferries connecting the larger shore line cities of each country along with cruises in the Spring, Summer and Fall.
The main ferries cross the lake between Germany and Switzerland's following cities: Constance, Meersburg, Friedrichshafen and Romanshorn.
The seasonal cruise ships main departures are from the following cities out of Germany, Switzerland and Austria: Constance, Meersburg, Friedrichshafen, Romanshorn, Bregenz, Lindau, Mainau, Langenargen, Ueberlingen, Rheineck, Hard and Kreuzlingen.