The World famous Belvedere Cycling Hotel is located in the historic Emilia-Romagna region. One of Italy's most historic & cultural provinces. The hotel is situated in the town of Riccione, steps away from the beautiful sandy beaches stretching along the Adriatic Coast line. The area is a cyclists haven with its rolling hills of greenery, castles, stone houses, churches, markets, medieval villages &  vineyards.
If you find yourself traveling through this region of Italy and you're looking to spice your sightseeing up with adventure, fitness, new friendships, good food and a warm Italian welcome, then I highly recommend the "Belvedere Cycling Hotel".
My first time at the Belvedere I was on my own. The warm welcome I received upon my arrival was like nothing I had experience before in a hotel setting. The owner Marina and her staff have a gift at bringing people together to celebrate life, leaving any troubles you may have behind.
The morning of my arrival date, I called the hotel to confirm what train I would be arriving on in Riccione. The pleasant staff member gave me directions on where to go on arrival at the Riccione train station for picked up. I was greeted by one of the hotel staff members at the back entrance of the train station. When entering the hotel you walk across a lovely bridge stretching over the hotel pool. On the other side you are welcomed by several warm smiling staff members and other guests. I immediately knew this was a very special place. During check-in the friendly staff provides you with the information on dinning, amenities, activities, cycling groups & bike set up. There are several different room styles to choose from. All comfortable, clean and modern.
Once checked in and organized from my day of traveling. I was then escorted by the lovely Daniela to a table in the dinning room, where I joined four other single travellers who welcomed me with warm-hearted smiles. Their positive, happy and relaxed energy was so welcoming. I Instantly felt like I knew them all for years. I learned during dinner that each of the guests at my table had been coming to the Belvedere for years, with planning to continue to return to the unique hotel in the future.
After dinner you can move out to the pool or lounge areas to enjoy an aperitif, tea or coffee. You will find many guests mingling with other guests and staff members. The sea-side boardwalk is a great place to unwind your evening with a leisurely walk before returning to your room for a well rested sleep.
A full Breakfast is served in the dinning room from 7:30 to 9 am, lunch is served as cyclists return from their rides (between 1:00-2:00pm), and dinner starts at 7:30pm. The food is delightfully delicious with every dish made with the freshest ingredients daily. Between the Italian coffee, light flakey pastries, Piadina, Paella, Italian cuisine to other fine dishes, you will never find yourself starving.
If you are not a cyclist, there are local tours and activities offered through out the day. The beautiful beach & shopping are steps away.  There is plenty of sightseeing in the area with the vineyards, medieval villages of Urbino, San Leo and colony of San Marino. The area is filled with culture and history. There are several WW II war memorials in the area, being that the Gothic line was situated here.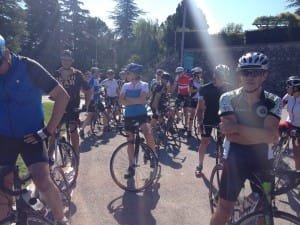 Their rental bikes are all top-notch Italian De Rosa, with the best components. There is no need to pay high-priced airplane fees to bring your own bike, taking the risk of costly damage during transportation. I recommend leaving your bike at home safely in one piece. The De Rosa bikes offered through the hotel are amazing. Do bring your own seat, peddles and of course helmet. The hotel offers a great daily laundry service for your cycling clothing, free of charge. One of the many delightful extras you will receive well staying with the Belvedere family. There is 4-5 different daily cycling tours which provided something for all cycling levels. All groups leave between 9:00-9:45am from the boardwalk along the beach, behind the hotel.
The underground Spa is a great place to rest, recharge and relax enjoying the turkish bath, steam room, sauna, cold pool, snow room and chill room sipping on refreshing cucumber water or teas. There are other spa services available that you can book directly at the hotel.
After lunch there may be an Italian cooking class, Italian class or flower arranging class offered. Those of you who feel like socializing more with other guests, want to read a book or sit back in the sun. The lounge, pool area & upper sun deck are great places to kick back. Many rejoin here to share a cocktail together before dinner. Usually one evening Marina will make her Italian Piadina as a tasty appetizer. These are delicious, you will not want to miss out!!!
Keep your eyes open for Marina's famous Paella night. Marina is a pro at making this Popular Spanish dish. She usually makes it, as an additional dish option with dinner.
Another delightful extra is a day the guides bring their groups to Marina's Italian family villa in the country, for a back yard BBQ. This is truly a special treat! You are welcomed with a glass of prosecco as you enter Marina's enchanting backyard in the picturesque green rolling italian countryside. There you are served more deliciousness well you rest & mingle with the other guests and staff. On your departure back to the hotel you will get a shot of Italian chilled limoncello.
One night through the week Marina hosts a five course dinner pool party or beach party with entertainment of some sort which is another favorite with the guests. Everything is very tastefully thought out from the decorating, entertainment, seating, dinning and service.
My first stay was only intended to be one week, it turned into four weeks. I am now one of many regular returning guests. Hours after arriving at the hotel, my troubles were left behind enjoying the best sleep in years. I joined one of the leisure cycling groups my first day, enjoying the scenery at a comfortable pace. Shortly after we started cycling I felt my face become lighter, sporting the biggest smile. The air was fresh & clean. The scenery unbelievable & breathtaking. The people friendly & inspiring. I have enjoyed every moment spent at the Belvedere cycling hotel, understanding why many guest continue to return. It is a unique & special place in our busy world. A place to unwind, relax & meet wonderful people enjoying life.
During my returning visits I continue to meet several inspiring & creative individuals from around the world. The Belvedere is not a hotel, it is truly an international family. It is a place that encourages positivity, happiness, health, acceptance, fitness & friendships. The Belvedere's PASSION is alive & real!