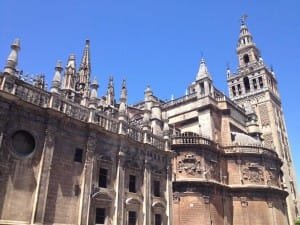 Spanish culture, history, entertainment, art and good food make it easy to love Seville. The capital city of Andalusia is over 2200 years old. The city has plenty of flare with its old and new side by side. Seville was founded by the Romans conquered by the Muslims in the 8th century who ruled it till the 13th century when it was ruled as a Christian Kingdom under Ferdinand III after the reconguista in 1248. The Islamic influences are present in contemporary Seville through the decorating, small fountains and the courtyards of the houses. The many buildings of the Moorish architecture belong to the Mudéjar style of Islamic art developed under Christian rule and inspired by Arabian design.
The Cathedral is one of the city's most famous attractions. The size of the Seville cathedral is remarkable. It is the third largest cathedral in the world and largest gothic cathedral. The city became a major trading port after the reconquista in 1248, demonstrating the city's wealth at this time the church was built. The construction was done on the original site of the Islamic mosque. It was decided to keep parts of the Islamic architecture during the construction. 
The lavish tomb of Christopher Columbus rest inside the grand cathedral.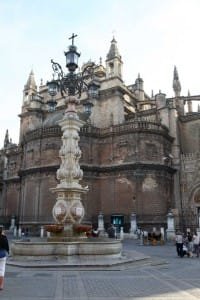 The carvings, stain-glass windows, art, wood, stone and tiling work is outstanding. The decor and architectural design is breath-taking. You can spend hours walking through the divine structure amazed at the craftsmenship, details, decor and the different religious styles.
The Maria Luisa Park sit alongside the Guadalquivir River in Seville. It is a beautiful green area with different fountains, sculptures, path ways and an array of flowers in the gardens. It is a nice place to rest, have a picnic and stroll outside the city streets.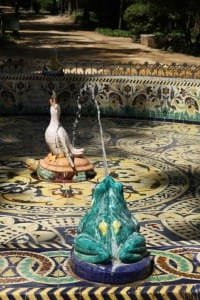 Plaza De Espana is another one of Seville's impressive constructions, though it was more recently built for EXPO 29 (1929). The Plaza De Espana was designed showing both the Renaissance and Moorish style. The canal in front of the Plaza De Espana has lovely bridges  that cross over it. You can rent little boats to row in the canal while taking in the Plaza which is a nice break off your feet.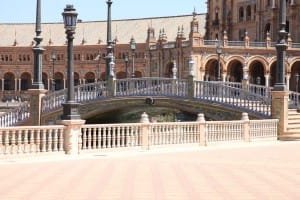 Seville is filled with delightful restaurants, bars & cafe's. You will discover an array of fresh little dishes to share. There are several flamenco houses where you can enjoy a good show. Flamenco dancing, socializing over tasty tapa dishes & sipping on a nice glass of Spanish wine is part of the Andalusian culture. There is no shortage of dining and entertainment in Seville.