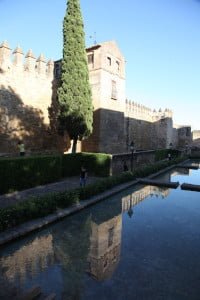 Founded by the Romans and because of its highest navigable point of the Guadalquivir River, Cordoba became an important port city. Ships transferred Spanish olive oil, wine and wheat back to Ancient Rome. The Romans built the stunning "El Puente Bridge" that crosses the river today.
Cordoba's famous Mosque of Cordoba "Mezquita"  is a fascinating construction that symbolizes the many religious changes the city has undergone over the centuries. The land originally was sight of the Catholic Christian church built by the Visigoths, then in the Middle Ages it was converted to an Islamic mosque and after the Reconquista it was made a Roman Catholic church. Today the Mesquita is the cathedral of Cordoba. It is one of the most spectacular buildings in the world. The majority of its art and architecture is the work of Islamic architects who built it as a mosque in the 8th century. The Mosque-Cathedral of Cordoba is the most important monument of all the Western Islamic world and one of the largest.
Cordoba's medieval quarter is set up with several winding narrow streets, courtyards filled with beautiful flowers and picturesque plazas. May is a lovely time to visit, homeowners decorate their patios with flowers to compete for the city's "Most Beautiful Courtyard" contest. April to June the weather is usually blue skies and nice temperatures.
The out side walls of the Mosque.
The bell tower and courtyard of the Mosque.
Inside the mosque walls you will be impressed with it's over 850 red & white stone columns. The stone work, tiling, arches, art, wood beams and carvings are magnificent.
The great Mosque today is influenced by both the Christian's and Islamic's due to the division of ruling. The Mosque is a building where you can stand with one foot in an Islamic house of worship and the other in a church. The two have been constructed together sharing history of Christianity and Islam both contributing in the construction and design of the spectacular architecture.                    
The city offers culture, history, architecture, good food, shopping and a lively night life. There are several wonderful hotels, B & B's and pensions to accommodate your stay.